Level Up Your Leadership Game
Transformative Leadership Development Programs for C-Suite Executives
Enhance Strategic Decision-Making
Achieve Personal and Professional Growth
Inspire High-Performing Teams
Managing and leading an organization can get overwhelming…
In today's super-connected world, top-level executives encounter distinct challenges. It's an unpredictable and fast changing business environment, coupled with the need for Environmental, Social and (Corporate) Governance initiatives.
Making Strategic Decisions
Balancing conflicting priorities, managing uncertainty, and assessing potential risks and opportunities.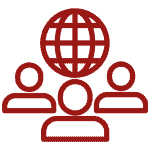 Leading Diverse Teams
Navigating communication barriers, cultural differences, bias, and fostering inclusion for optimal collaboration and success.
Ensuring Organisational Alignment
Addressing information silos, resistance to change, and communication breakdowns.
With the right mindset and tools, you have the power to deal with these challenges. We're here to help!
"Leadership is not about being in charge. It is about taking care of those in your charge."

– Simon Sinek
An effective leadership team is the cornerstone of your organisation's success.
Here are some of the topics we cover in our c-suite leadership workshops.
Strategic Decision-Making Mastery
Equip yourself with tools and techniques to make impactful decisions that drive business success.
Team Inspiration and Empowerment
Learn to inspire and lead high-performing teams, fostering collaboration and maximising team potential.
Personal and Professional Growth
Unlock your full leadership potential, enhance your skills, and achieve growth in your career and beyond.
Expert Facilitation and Guidance
Benefit from the wisdom and experience of seasoned leadership development experts.
Advanced Leadership Techniques
Gain insights into cutting-edge leadership practices and approaches.
Effective Communication Strategies
Master communication techniques for inspiring and influencing others.
We understand that every organization is unique, which is why we customise each program to meet your specific needs to help you achieve the breakthrough results you desire.
Let's work together to level up your leadership skills for an engaged team with empathetic and empowered staff.
Why US?
Our training have been positively impacting leaders and staff for years… here's what they say.
Here is what some of them have to say about our workshops:
Let's embark on a transformative journey to amplify your leadership skills
Let's have a chat, so we can customise a program that fits your needs.
Schedule a call with with our expert consultants.
We'll design a programme tailored to your needs.
Witness the transformation as your leadership skills soar to new heights.